Disaster Preparedness: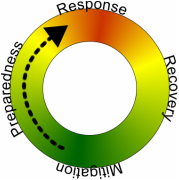 Emergency Management Cycle
Make sure you and your family are prepared for a disaster. A little time and money now can go a long way if a major event occurs in our area.

You can start your preparation by picking up a few supplies at the grocery store and securing objects in your home (in case there is a strong earthquake). First, get enough water and food for your family and pets. We recommend 1-2 weeks of supplies.


How to start: Get one gallon of water per person per day. For a family of 4, that comes out to 12 gallons minimum (40 gallons would be ideal). You can get water at the grocery store for around $1 per gallon. Get cans and jars of food such as chili, baked beans, tuna, peanut butter, etc. Store your water and food at room temperature (and way from sunlight). Make sure you have a manual can opener.

The City has an emercency preparedness page where you can learn more: Hermosa Beach Emergency Preparedness
​
The Los Angeles Fire Department has provided an emergency preparedness booklet to help you prepare: LA County Survival Guide
---
Be Informed:
To receive emergency notifications from the City of Hermosa Beach, do the following:
Text "hermosa" to the phone number 888777
Or click on the following links:

Nixle Emergency Telephone Notification Message System
Alert LA LA County Reverse 9-1-1 System

The Nixle system gives city officials the ability to deliver emergency telephone notifications to residents of Hermosa Beach. Note: Nixle replaces CodeRED.